Accomodations
Holiday cottage
The stonework B & B fits perfectly in the environment and may accomodate up to 6 persons. The former barn was been entirely renovated to give you a house of 90 m² with all the modern conveniences.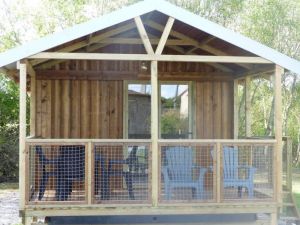 De hut : a new wooden chalet on stilts
Cottage 4 seasons evething you need for a perfect camping holiday !
B&B
There are two rooms upstairs the owner's house : the Romantic room (2 persons) and the Family room (2-5 persons)
The roulotte
Very comfortable, the roulotte's accomodation is up to 4 people (2 adults & 2 childs). It's placed on the campsite.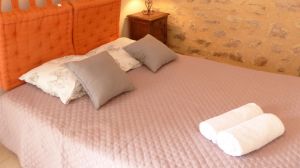 Guestrooms
We call them chambres d'accueil rooms because these 2 rooms are on the campsite for 2 people
The camping
The Oliverie has 25 spacious and partly shaded camping sites in a south-facing hectare field for tents, caravans or mobile homes.
Informations
The campsite offer a free wifi in common places and a accessibility for people with mobility handicaps :